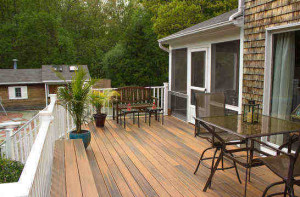 When the snow finally thaws in the Rochester area, homeowners take inventory of what needs improvement before the busy summer months. Are you ready to host friends and family for Memorial Day, the 4th of July and the semi-annual block party? If you're looking for the next great evolution for your home, why not consider adding a custom built deck to your property?
Building a custom deck is the perfect way to add extra outdoor space for year-round entertainment. Whether you're a self-proclaimed grill-master, the neighborhood pool party hostess extraordinaire or a backyard marshmallow-roasting fire-pit dreamer, Kilbury Construction will exceed your expectations at every turn.
From conception to unveiling, our experts collaborate with you every step of the way to ensure your vision comes to life. Even If you've owned your home for ten years and are simply looking for an upgrade, or you just purchased your first home and want to make a crucial change, Kilbury Construction promises to create a custom deck that'll pair perfectly with any lifestyle.
Not only does a new deck enhance the value of your home, it also allows more flexibility for entertaining family and friends. Pool and spa decks are especially popular for kids that are home for summer break. Kilbury Construction offers safe, slip-resistant decking that promises not to burn swimmers' feet even on the hottest of July scorchers.
While there are infinite possibilities for your new custom built deck, one thing is certain: with over thirty years of local experience under its belt, Kilbury Construction is sure to build a masterpiece you can be proud of. Request a consultation and a free quote from our experts to learn which type of deck will work best for you.
Deck Types:
Attached/Detached Deck
Wraparound Deck
Pool/Spa Deck
Rooftop Deck
Outdoor Dining Deck
We don't just build custom decks. In addition to repairing existing or damaged decks, Kilbury Construction is one of Rochester's leading experts in home improvement needs, plumbing, insulation, basement remodeling, and much more.
If you've ever dreamed of building a custom deck that has the power to add value to your home, as well as enhance any event you'll be throwing this season, now is the best time to invest! Call us today at (585) 247-8509 and let us bring that deck to life before your very eyes and make your home a place you'll love to live.