When out of town relatives visit Rochester in the summer, they always comment on how many of our neighbors they see sitting outside on decks, stoops, and front porches. And when those same relatives visit during the winter months, they quickly realize exactly why Rochester residents want to get the most out of the spring and summer. That's why we build so many new decks for Rochester citizens as soon as the snow starts to melt.
Unfortunately, we've also seen a lot of decks gone by fall into disrepair because people know they just sit under a pile of snow all winter long. Fortunately, there's a simple way to ensure you'll want to use your deck in spring and summer and winter too.
Image Source: Decks.com
Build The Deck Pool Combo Rochester Neighbors Will Envy
Don't cheat yourself of enjoying your deck, patio, or pergola just because of a little thing like five feet of snow. Not everyone can fit a pool into their backyard, but we're betting your backyard and deck has exactly enough room for an outdoor spa. Also check out our 5 reasons why your Rochester home NEEDS a deck.
Honestly, even if you aren't brave enough to make a mad dash for the hot tub in the middle of winter, adding room for a water feature into a new or existing deck can help ensure you take full advantage of your backyard space come summer time. Kilbury Construction can expertly build a custom deck and spa combo that can help increase the value of your home. Plus, your neighbors and out of town relatives will be green with envy when they see how much you enjoy relaxing in your new multi-purpose backyard retreat. We can pretty much guarantee that, if you build it, they will come (even if you don't really want them to).
Adding A Spa Or Pool To An Existing Deck
Many people hold off on installing a spa or hot tub feature into their deck because they don't want to start from scratch. But you don't have to get rid of your deck just to upgrade it. Patios, porches, and decks can be renovated just like a home, and Kilbury Construction knows exactly how to incorporate a pool feature into your existing deck.
If you're looking for a new backyard improvement project, then adding a hot tub or spa into your existing deck can breathe new life into your entire home. So enhance your lifestyle and your home at the same time, and call Kilbury Construction and ask how we can help transform your house with an amazing new deck and spa combos. We can build a deck for any desire.
Some of our specialities include:
Attached Decks: Like a patio, an attached deck connects right to the back of your home, perfect for deck spa combos.
Detached Decks: These backyard features are connected to your home by a path, and are perfect for homeowners looking to maximize their use of larger properties.
Multilevel Decks: For large properties or those built on a slope, multilevel decks are a really unique feature for your home. Plus, kids love jumping right off a raised deck and right into the pool!
Wraparound Decks: Like old southern wraparound porches, these decks allow you to build an entertaining area for both the sun and shade.
Just check out this deck pool combo we helped build for one of our many Rochester customers: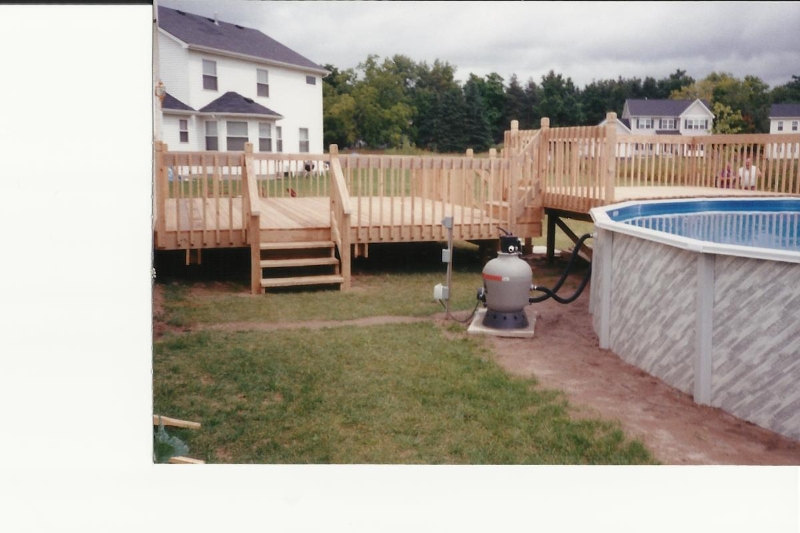 Why Build Deck and Spa Combos in Rochester?
With special slip-resistant decking materials, deck and spa combos are simply the best way to enjoy your backyard to its fullest. Whether you're looking for a space to unwind with friends on lazy summer days, or want to give the grandkids a reason to drop by for the best visit ever, building a water feature into a deck will set it apart from the backyard decks you're used to. So if you're building a new deck, or want to upgrade your existing one with deck spa combos, Kilbury Construction has the experience, skill, and know how to get the job done right.
We promise, we can turn your wildest backyard dreams into reality. Don't limit your new deck to barbecues and an occasional glass of wine under the stars. Build the deck and spa combo you've always fantasized about. We can work with your budget to build the perfect, custom deck for your home.  Want to imagine what your new deck construction could look like?  Watch this video of a deck build then.
We've served the entire Monroe County area with full-service renovation, remodeling, and new deck building for over 25 years. So call Kilbury Construction at (585) 247-8509 and ask us about all the deck and spa combos Rochester residents love the most!