High Quality Kitchen and Bath Remodelers Rochester NY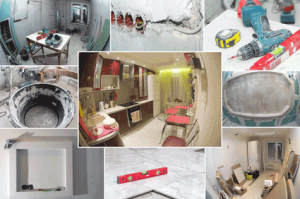 Today, many people searching for kitchen and bathroom remodeling Rochester NY find themselves wondering how they will gain access to the latest designs and materials. On the other hand, wading through dozens of magazines to get the best kitchen and bath remodeling ideas may create a disaster once you try to implement them. This is just one of many reasons why you will be well served by hiring a professional kitchen and bath remodeling Rochester NY company, such as ours.
Consider a situation where you are thinking about using a specific theme for kitchen and bath remodeling. Even if you think you can manage the bath remodel on your own, and then hire someone to do the kitchen, you may soon find that the entire project truly doesn't fit your home, let alone your needs. That said, when we analyze your kitchen and bath, we can recommend fixtures, materials, and themes that will truly enhance your home and make it easier to maintain.
Kitchen and Bath Remodeling Projects Rochester NY
Over the last 13 years we have offered the all phases of home remodeling to the Rochester area, including kitchens and baths.
Here are just a few things you can count on when you hire us:
We have access to all the most modern kitchen and bathroom styles, as well as the technical experience required to recreate any theme of interest to you
Our professional staff members will never cause damage to your home or property
We stand behind every estimate and will always honor it as a contract
Our company only uses the best materials in order to ensure long term durability
[nggallery id=3]
When it comes to your kitchen and bathroom, there is nothing worse than hiring a renovation company that cannot do the job correctly. Call us today at (585) 247-8509 and find out more about our services, and then ask for a free estimate.
[divider top="0″]
Proudly Serving Rochester NY and all of Monroe County in New York including Brighton, Brockport, Chili, Churchville, Clarkson, East Rochester, Fairport, Gates, Greece, Hamlin, Henrietta, Hilton, Honeoye Fallas, Irondequoit, Mendon, Ogden, Parma, Penfiled, Perinton, Pittsford, Riga, Rush, Scottsville, Spencerport, Sweden, Webster and Wheatland.