We Build Decks Rochester, NY Home Owners Enjoy!
Because they create additional living space outside, many are looking for deck builders Rochester, NY residents can trust. Kilbury Construction has been building decks for residents of the Rochester, NY area for years.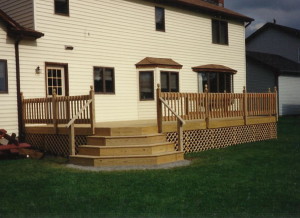 Often, decks are built to allow homeowners to increase their space for entertaining or to take advantage of the views from their home. Although decks are typically constructed from wood, today composite materials are becoming more and more popular. Composite materials and some types of trees are actually resistant to insects. Choosing quality materials can help ensure that the deck is enjoyed for years to come. Once built, decks need to be maintained to keep looking good and to stay safe. If your deck is in need of repair, you can trust Kilbury Construction to get the job done right.
There are so many types  to choose from that, in many ways, you are only limited by your imagination, along with the configuration of your lot, when it comes to creating your own outdoor oasis. At Kilbury Construction, we enjoy building decks that perfectly fit the lifestyles of our clients.
Other services include handyman services, basement remodeling, kitchen and baths, insulation, home remodeling, plumbing and more.
Rochester, NY Deck Builders – Kilbury Construction
Unsure if you want a deck? Check out our 5 reasons you need a deck on your home. Depending on the size of your lot, where you want the deck located, and how you want it to function, there are many available options for you to choose from:
Attached Decks are similar to patios and are usually constructed of wood or wood composite. They tend to be raised and are most commonly built to attach to the back of a home. Some homeowners choose to cover their attached decks, making this outdoor living space even more livable since it is sheltered from the elements.
Detached Decks are located away from the home, but are easily accessible by a path or steps. These decks tend to be very forgiving of areas that have uneven terrain or poor drainage since they are built above the ground.
Wraparound Decks are similar to old-fashioned wraparound porches, although the different sides do not have to be identical. They have the advantage of allowing you to follow the sun or shade, depending on your preference.
Multilevel Decks work well for large properties or ones with yards that have changes in elevation. Multilevels are made up a series of decks that are built at different levels and are often connected by pathways or steps.
Side-Yard Decks allow homeowners to utilize an outdoor space that is often forgotten.
Pool or Spa Decks are smart choices to surround pools and hot tubs. Decking is slip-resistant and won't burn swimmers' feet on hot days.
Entryway Decks are similar to front porches in many ways, although they are part of the overall architectural design and can include elements like built-in benches or planter boxes.
Outdoor Dining Decks are extensions of the kitchen or dining area and often include features like grills, eating areas, and outdoor kitchens. These can be as simple or elaborate as you wish, depending on your budget.
Rooftop Decks can provide you with a quiet retreat with a view as long as your home or garage does not have structural issues. These often work well for urban dwellings with limited areas to locate a deck in the yard.
As an extension of your home, a deck allows you to bring the entertainment outside, where you and your guests can enjoy pleasant weather in a relaxed atmosphere. The new space allows your family and friends to participate in more activities outside. Whether you want to host a barbeque or relax in a hot tub under the stars, a deck can definitely enhance your lifestyle and also raise the value of your home. Not only will a well-built deck from Kilbury Construction increase your family's enjoyment of your home, but it will also help attract buyers if you decide it is time to sell your home.
Maybe you just need some repairs.  Kilbury Construction can make your deck like new. Whether you already have a plan in mind for what you want or you are at the beginning of the process, our team of deck builders is ready to help you turn your dreams into reality. Give us a call today and let us show you what a new deck can do for you.
Request a FREE Quote Now
[nggallery id=1]