Kilbury Construction Can Help You Turn That Dark Musty Basement into Beautiful Living Space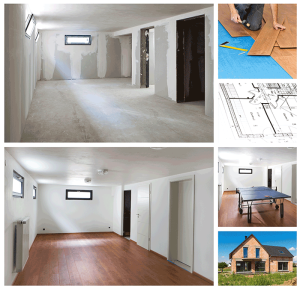 These days more and more Rochester, NY homeowners are increasing the living space in their homes with basement remodeling. Remodeling a basement into extra living space can significantly increase the value of a home by adding additional square footage at less cost than adding on another room. Remodeling a basement is one of the home improvements that tends to have the best return on investment for homeowners.
Here are some popular basement remodeling ideas in Rochester, NY
Guest Suite
Recreation Room
"Man Cave"
Home Theater
Home Office
Home Gym/Workout Area
Apartment
Remodeling a basement into recreational space like a rec room or home theater has the advantage of allowing parents to keep their older children and teenagers close to home in a fun and safe environment. Some families choose to remodel their basements into apartments that can be used by family members, such as aging parents or college-age children, or can be rented out for extra income.
If you are considering basement remodeling of your Rochester, NY home, you should consider adding a bathroom. The addition of an extra bathroom tends to help homeowners get the most bang for their buck in a basement remodel.
If you decide basement remodeling in Rochester, it is important to hire a contractor with experience in basement remodeling. Sometimes there is heavy equipment that must be moved or there may be issues with the way your home has aged that might have affected the foundation. That is why it is critical to hire someone with expertise and experience in basement remodeling.  You also want to make sure your basement remodel is worth it.
If you are considering remodeling the basement in your Rochester, NY home, give Kilbury Construction a call. We have been in business for over 25 years and during that time we have helped countless Rochester homeowners turn their dark, musty basements into bright, beautiful new living space. In addition to basement remodeling, we also provide handyman services, insulation, and deck construction, as well as kitchen and bath remodeling services.